Ten Basic Items for a Do-It-Yourself Denver Exterior Painting Job
Mar 8
Painting the exterior of your Denver home yourself is a terrific way to save time and money that would otherwise be spent hiring a Denver painting company. But having the right materials and tools in your arsenal can make all the difference in ensuring the task is done perfectly from start to finish. Our list of ten necessary painting tools for a do-it-yourself painting project will equip you with all you need for your outside painting work and more. With these items, you are well on your way to painting the exterior of your Denver home like an expert.
Ladder
A ladder is essential for interior and outdoor painting since it allows you to reach heights that would otherwise be inaccessible. When selecting a ladder, it is crucial to choose one with a suitable weight rating for the task at hand; this assures the safety of everyone utilizing the ladder.
Due to the arduous nature of their jobs, painters frequently choose more robust and substantial ladders. Regardless of the nature of your job, choose the appropriate ladder - your safety depends on it!
Pole Extension
For house painters, having the correct tools for the job is important to a successful painting process. A telescoping extension pole can be indispensable for accessing tight corners and upper eaves that would otherwise be inaccessible.
Denver painting businesses advocate choosing an extension pole that is easily adjustable and specifically made with exterior home painting in mind. This ensures your house paint job will meet professional standards, saving time, money, and effort as you tackle those hard-to-reach locations.
Paintbrushes
Selecting the appropriate paintbrush is critical for indoor and exterior painting operations. Paint brushes come in a range of sizes and forms, each suited for a specific purpose. For oil-based paints, natural-bristle brushes are suitable whereas nylon or polyester brushes are best suited to water-based paints. It is vital to take the time to evaluate the particular job and the surface type before selecting a paintbrush, as this will guarantee that you have picked an appropriate tool for the task at hand and that your work will seem professional upon completion.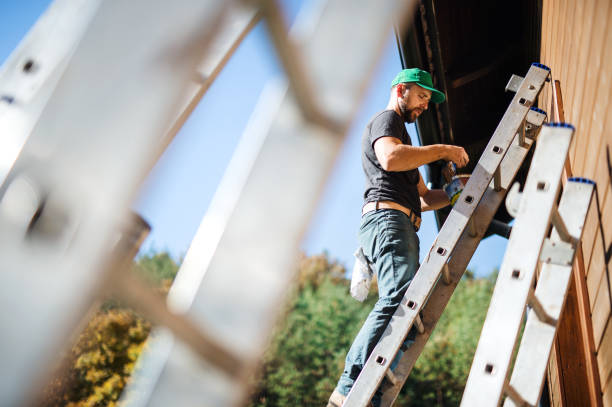 Brushes with Natural Bristles
Animal hair, such as hog hair, is used to make natural-bristle brushes. They are ideal for oil-based paints because they can hold more paint and produce a smooth finish. However, because the bristles can absorb moisture and expand, they are not suited for water-based paints.
Nylon or Polyester Bristle Brushes
Synthetic brushes made of nylon or polyester are ideal for water-based paints. They will not swell when used with water-based paints since they do not absorb moisture like natural-bristle brushes. Although nylon and polyester brushes can be used with oil-based paints, they do not have the same capacity to hold more paint as natural-bristle brushes.
Paint Rollers
Why not utilize the most effective instrument when painting the interior or exterior of Denver? Paint rollers are frequently the quickest and easiest method for applying a smooth, uniform layer to large areas. With so many possibilities available, it's crucial to choose the proper roller depending on characteristics like texture and material—not every size and nap length is suitable for every wall! Learning more about your project might help you select which paint roller will accomplish the job best.
Paint Bucket
Painting your residential house or any interior area might be overwhelming. Yet with the proper equipment, it need not be a chore. While performing outside painting work on a home or business, a paint tray is a necessary accessory. Select a tray large enough to transport substantial quantities of paint while being lightweight for maneuverability. For easier transportation and better convenience during home painting projects, look for trays with wheels. Choosing the ideal paint tray for your needs will make the entire process much simpler.
Trim Enamel
Selecting the proper trim paint for your home is vital for ensuring its professional appearance and durability. Trim paint is specially formulated to withstand adverse weather conditions and avoid fading, cracking, and peeling.
Use professional painting services or consult with local painters who are familiar with the formulas that work best in your area to ensure that you have the appropriate trim color that can withstand the local environmental conditions. With their experienced advice and skilled services, you will be able to give the exterior of your home a professional makeover that will last.
Sandpaper
Experienced painters in Denver, Colorado are aware that sanding is one of the most important procedures in surface preparation prior to painting. Depending on the task, the type and amount of grit used vary, but selecting the proper grit is essential for producing professional-looking results. Safety should also be considered when sanding; protective gloves, masks, and glasses should all be worn, and safety regulations should be strictly adhered to. Sanding can be time-consuming, but with professional finishes comes professional pride, making the effort worthwhile for any professional painter.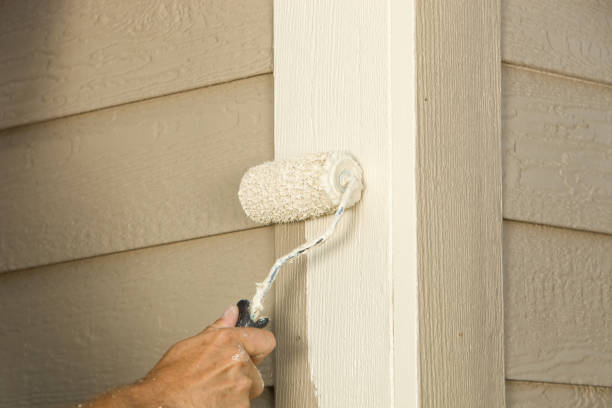 Drop Cloths
Drop cloths are required for any painting project. While drop cloths can protect your floors, furniture, and fabrics from splattered paint, it is crucial to select the appropriate drop cloth for the project. Using a thicker plastic or canvas fabric will ensure that all of the paint stays on the canvas, minimizing messes and protecting surfaces below. Also, it is essential to look for a product that can be quickly wiped or washed in the event of spills or stains. By purchasing a high-quality drop cloth that can withstand several operations, you may avoid the headache of cleanup during and after each project.
Tape
Painting may be a creative and gratifying process, particularly when achieving clear lines, crisp edges, and professional results. Painter's tape is the key to all of these, as it is an indispensable tool for all types of painting projects. It provides the ideal answer for blocking off parts that do not require paint or covering regions where the color should not reach. But, when buying painter's tape, be sure to use one suitable for external applications. This will prevent the adhesive from leaking through the canvas and causing damage or undesirable bleed-throughs. With the proper painter's tape, you will be able to create magnificent artworks with crisp lines and angles!
Spray Paint Apparatus
A paint sprayer will significantly minimize the amount of time required to accomplish the process. Paint sprayers are designed to swiftly and evenly coat the surface with paint, resulting in a professional look in a fraction of the time.
Last Thoughts
DIY exterior painting tasks in Denver can be intimidating, but they don't have to be. With the correct equipment in hand, you may accomplish any project professionally and swiftly with minimum stress or problems on your part. We've outlined the ten basic tools needed to execute a high-quality paint job by yourself as opposed to employing a professional painter. With these tools, you'll have a finished and polished product in no time. DIY tasks may demand more time and work initially, but they may save you money in the long run when compared to hiring an exterior painter. So grab your DIY project kit today, go to work, and you'll soon be awestruck by your artistry!
If you're looking for more ideas about this topic, feel free to read this blog post from Harmony Painting.