Hiring House Painters For Your Exterior Project? Don't Forget To Ask These 5 Questions
Mar 9
When it comes to home improvement projects, painting the exterior of your house is one of the most important investments you can make. Not only does it improve the overall look and feel of your home, but it also adds value to it. However, when hiring a house painter for this project, there are certain questions you should ask in order to ensure that you get the best possible results.
The questions you should be asking potential painters may not be as obvious as you think. From finding out what kind of paint they use to making sure they have experience with painting exteriors, there are several factors that can make or break the success of your project.
In this article, we'll discuss five essential questions you need to ask before hiring a house painter for an exterior project. We'll discuss why each question is important and how it can help ensure that your project turns out just how you want it. So let's get started!
1. Painting Techniques Used
Once you have chosen the professional painters for your project, it's important to understand the techniques they will use when painting your home. Professional painters employ a variety of methods for achieving the best results. Here are three of the most common painting techniques used:
Power washing – This method is used to remove dirt, debris and oxidation from the exterior walls of your home. It also helps prepare them for paint adhesion and provides a smooth finish.

Priming – Priming is necessary before painting to ensure that the paint sticks properly and lasts longer. A professional painter will apply primer evenly to create an even base coat which will help protect your exterior walls from moisture damage and extreme temperatures.

Brush or Roller Painting – Professional painters typically use either brushes or rollers when applying paint to surfaces. Brushes are ideal for detailed areas such as window frames or trim, while rollers are great for larger areas like walls. Rollers also provide a smoother finish than brushes do.
In order to achieve a professional-looking result, these techniques must be combined with high-quality materials and paints that are designed specifically for exterior projects.
2. Materials And Paint To Be Used
It's estimated that up to 75% of the exterior painting job is spent on preparation and clean-up. That's why it's critical that the right materials and paint are used when completing an exterior painting project. High-quality materials are necessary to ensure a long-lasting finish and they provide better coverage than low-grade options. Professional painters will also select paints specifically formulated for outdoor projects that can withstand extreme temperatures and moisture levels.
When interviewing potential contractors, be sure to ask about the types of paints and materials they use for exterior projects. The contractor should be able to explain the quality of the products they recommend and provide a list of brands or manufacturers for you to review. Additionally, inquire about any warranties available on their products and services as this could save you money in the long run if repairs become necessary due to any unexpected issues.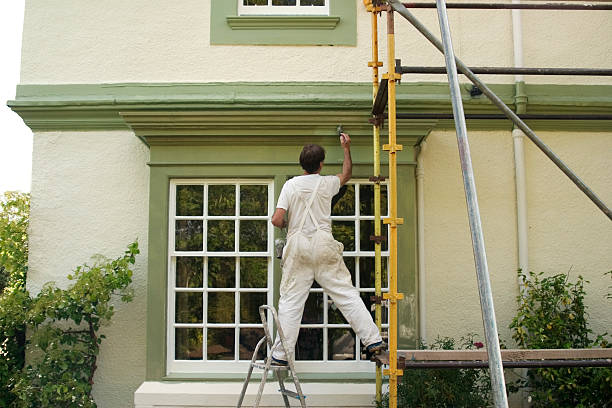 3. Estimate Of Labor And Timeframe
Time and labor are major factors to consider when hiring a painter for your exterior project. Knowing the cost of labor and the timeline for completion will help you properly plan and budget for the job. When interviewing contractors, be sure to ask about their estimates of labor costs as well as their projected timeline for completing the job. This will give you an idea of how much the project will cost and when it should be finished.
It's also important to inquire about any warranties or guarantees that may be provided on the materials and services being used. This could save you money in the long term if repairs become necessary due to any unexpected issues. Ask your contractor about any manufacturer warranties that may come with the paints or materials they are using, as well as any additional warranties or guarantees that may be offered by them directly.
4. Clean-Up Procedures After Completion
At the end of a successful exterior painting project, there are several important steps that should be taken to ensure the highest levels of cleanliness and safety. Knowing what procedures will be followed by your contractor and how they will handle any potential hazards can provide invaluable peace of mind. Don't forget to ask your contractor about their specific procedures for post-job cleanup, so you know exactly what to expect when all is said and done!
5. Liability Insurance Coverage
When it comes to house painting projects, proper insurance coverage is of the utmost importance. Not only will it protect you in the event of any damages or accidents that may occur, but it can also give you peace of mind while the work is being done. Here are a few key points to consider when looking for a contractor with liability insurance coverage:
Make sure the contractor has comprehensive coverage for both property damage and personal injury.

Ask if there is any additional coverage in place for any subcontractors they may hire on your project.

Check that their policy limits are adequate enough to cover potential costs associated with any unforeseen circumstances.
In addition to these points, be sure to inquire about how long their insurance policy is valid for and ask about any exclusions that may apply before signing a contract with them. Taking these extra precautions will help ensure that you are protected throughout the entire duration of your painting project – from start to finish!
Conclusion
Hiring a reliable and experienced house painter is an important step to ensure that your exterior painting project goes smoothly and looks great. Before hiring a painter, homeowners should ask the right questions to ascertain they are choosing the right painter for the job. Asking questions such as what painting techniques will be used, what materials and paint will be used, what warranties and guarantees are provided, and if references from past clients can be provided are essential. Additionally, it is important to check that the painter holds the appropriate professional licenses and certifications.
Ultimately, taking time to research potential painters by asking questions about their experience and qualifications can help ensure you hire someone who will do a quality job on your home's exterior painting project. Quality workmanship is worth paying extra for in order to get results that last longer and look better than those achieved with cheaper materials or labor techniques. With careful research upfront, you can have peace of mind knowing you have chosen the right house painter for your project.
If you're looking for more information on this subject, have a look at this article from Harmony Painting.